Photo Neck Joint Service is called invisible mannequin service or ghost mannequin. For making the plastic mannequin is utilized rather than any other figure, 2D or 3D states of a different piece of clothing things. Fundamentally, it is done by using Adobe Photoshop it is a photo editing system.
Generally, the photographer can't shot a full view of garments; generally, photographers always take shots of Front Part & back part & our experts show the full view using Photoshop by joining creating a ghost part combined with the color of garments and the neck part. The final finished products look as natural & perfect. Nobody will understand the ghost part is created by someone. If you have a look at our gallery images given, you will understand deeply.
What is the Purpose of Photo Neck Joint Service
?
Utilizing Ghost Mannequin Service or Neck Joint Service for your item pictures is a proficient and practical approach to advance your items. Mannequins enable your items to hold their shape, which can make item pictures appear to be more expert and predictable, along these lines expanding their attractive quality to clients. Thus clipping choice is the best neck joint service provider.
For different indexes, Garments, and web-based business destinations, mannequins are utilized rather than the human figure to make the 3D impact of a different piece of clothing things. On the off chance that you have to evacuate the foundation and give it an empty or spooky look, you need to apply a Photo Neck Joint Service from a neck joint service provider. You can make a similar impact by utilizing Transparent Mannequins or Removal Ghost Mannequins. In addition, a straightforward mannequin is utilized by consolidating the front and internal pieces of items which make them usable. Afterward, cutting way is connected to the front and inward part by going along with them, and afterward, the foundation is evacuated. For this situation, the inward part ends up noticeably foggy and left-center. Along these lines, Photoshop modifying, shading adjustment, brilliance, differentiate, honing, and so on are connected to make a genuine view. Internet business sites, Magazines, Printing, Annual Reports, Ad Agencies, and Other diverse sites can utilize this service.
You may definitely realize that Neck joint services are otherwise called picture control. Fundamentally, Photo control includes changing or modifying a photo utilizing different strategies and procedures to accomplish wanted outcomes. Various applications are available to do Photo Neck Joint job, Photoshop is outstanding between other applications to do them proficient ways.
Photograph control procedures can be a troublesome ace, yet not hard to try different things with. When you get its hang, anybody can transport his or her fantasies onto the PC screen utilizing Photoshop. Here are a few hints of neck joint occupation that will be significantly more accommodating to do yourself-
Why you require a Photo Neck Joint Service
?
Just like clipping path service, neck joint service also has its own importance when it comes to enhancing images. Promoting garments cloth can be precarious. Ordinarily, organizations put a thing of the dress on a mannequin or plastic doll or photo garments on a level surface before transferring pictures to their site. Photograph Neck Joint Service has changed this. They are utilized by a portion of the world's greatest brands, including world-renowned mold names that need to promote their items to a worldwide group of onlookers. The procedure is basic: a visual planner will expel the foundation and mannequin from a photograph by utilizing the most recent section way programming. This service is typically used to feature items on the web or on blurbs. As the neck joint enables individuals to see both the outside and within attire in the meantime it is generally more desirable over displaying the garments on a live model. Once again this service is the best choice to feature your apparel.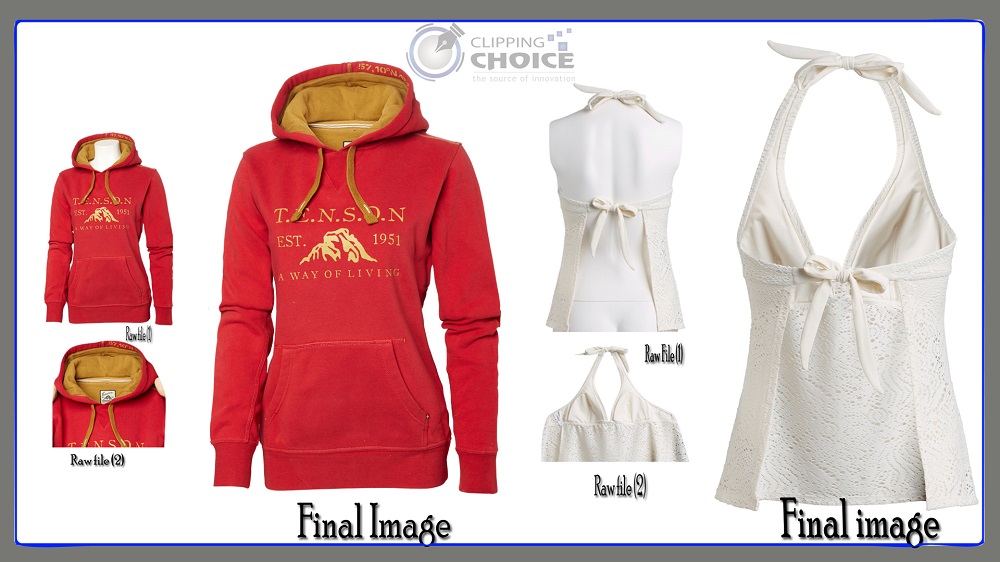 Result of Neck Joint Services
?
Garments nearly seem as though they are skimming noticeable all around in the event that you utilize Neck Joint Service. A picture is taken of the outside and within the piece of cloth. At that point, the first mannequin is expelled amid altering and another picture is handled. More often than not, photographs are taken of the front, back and inside of cloth. The tone of the neck some portion of the attire thing is altered to create an eye-getting picture. An illustrations editorial manager can likewise upgrade the shade of a thing of dress; hone a picture or making a 360-degree perspective of the item.
The Benefits of Using this Service
Neck joint/apparition mannequin administrations give you a lot of value for your money. This is an awesome outline thought on the off chance that you need to change the look of your online business and pull in new clients to your site. Studies demonstrate that a very much outlined store builds the odds of shoppers acquiring your items. Putting a brief period in the plan of your site with neck joint and apparition mannequin administrations can give you a noteworthy profit for your speculation and enable you to field more garments to a wider gathering of people.
Step by step instructions to choose this Service
Not all neck joint and cutting administrations are same. You'll have to pick a fashioner that has enough understanding of the activity. Attempting to expel a mannequin or foundation from a picture should be finished by an expert. If not, it can influence your web-based business to store look amateurish. An expert visual planner that works in neck joint administrations can enable you to make a dynamic, imaginative look to your web-based business store rapidly. You don't have to do anything. You simply send a picture or gathering of pictures to a cut-out way proficient. They pride you the running.
Especially this administration attained for dress related things. Pieces of cloth, a purchasing house, Magazine entrepreneurs, online store proprietors, Ecommerce shop proprietors; Photographers require imperceptible neck joint administration to improve an item with an awesome standpoint. It gives your Ecommerce store an expert touch.
How is Neck Joint Service Done
?
The Neck Joint Service impact is made by taking two pictures, one of the apparels of the mannequin, and another without the mannequin so within the mark is noticeable. At that point, the two pictures are fixed together at the neck using cutting way benefits in this way making the dream of the Photo Neck Joint. Likewise, the shading and brilliance of the picture are balanced and wrinkles are advanced to inspiration the item to look additionally engaging their objective clients. Shading revision is likewise utilized so you don't need to exhibit diverse hues with various pictures, you can change the shading on a solitary picture, which will spare you the time and exertion.
This service what we do is also called Ghost Dummy Service. In this case, we need to remove the Ghost from the inside of garments. If you have both front part & the ghost part than it is easy to combine this two parts to make an original garment using neck joint technology. If there has no photo-shot of neck part we need to create the neck-part using their creativity. We all did. Hope you have already understood all about neck joint by reading our article. So, try our  service today and gather a new experience. We offer you the best service as well! Even then you have any confusion or questions on this service then feel free to contact us with your questions. Our service officers are waiting to solve your problem. If you have any query of our service then must contact us.